About Us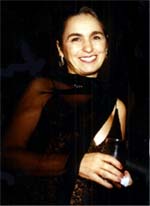 Club Free Time was started in 1987, born from the enthusiasm of a new New Yorker for her adopted city...
More About Us

Club Free Time has been the subject of a column in the
New York Times
Metro Matters...
More Press

Thank you so much for offering free tickets to the opera last night. I had a wonderful seat and the music was sublime. It was a little slice of heaven.

I was a member of Club Free Time many years ago. It was a blissful experience. I would plan my weekends in advance. My only problem was that sometimes there were two or three wonderful things offered at the same time and I had to choose. I would start my Saturdays and Sundays at the first event offered and often not finish my day until 11:00 that night. For many years after I retired I was babysitting for my wonderful grandchildren and I found my weekends full with family life. Now I have rejoined your club as I have more time for myself and life is short . Besides, Club Free Time is the best deal in town!
- Barbara Doig, New York City | 2015-10-18
More Reviews

Please wait while your request is being processed.
Do not go back or reload the page.