I Love Lucy, and a Double Dutch Treat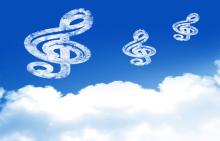 Gail Wein
January 31, 2019
Once in a great while, a performer comes along and proves her talent across a wide range of repertoire, inspires composers to create, and collaborators to collaborate. Soprano Lucy Shelton is such an artist, and on February 24 at Merkin Concert Hall, she'll celebrate 40 years since her breakthrough Naumberg Competition win, and her debut recital in New York. Through the years she's become renowned for her performances of early music, contemporary compositions, dramatic works, chamber music collaborations and a slew of recordings. The program includes selections from Rossini to Carter, and features guest artists The Westerlies, pianist Gilbert Kalish and others. Tickets available through Merkin Hall.

If reading about Lucy Shelton's artistry has whetted your appetite for vocal music, you may be interested in the Brooklyn Art Song Society. All this season, BASS has been presenting music by "American Iconoclasts", with excellent singers and superb programs. On February 1, Aaron Copland is the focus, with his Old American Songs and 12 Poems of Emily Dickenson on the program. On March 1, it's George Gershwin, including his Porgy & Bess Suite. Performances are at the Brooklyn Historical Society.

Two Dutch treats come our way in February. The Royal Concertgebouw Orchestra – one of the finest orchestras in the world - comes to Carnegie on February 14 and 15. Daniel Harding conducts two classic programs: Mozart's Symphony No. 40 and Brahms' Symphony No. 4 on the 14th, and Beethoven's "Emperor" Concerto with pianist Pierre-Laurent Aimard on the 15th. Another fine ensemble from the Netherlands, Calefax, performs at the Frick Collection on February 3. When this quintet of oboe, clarinet, bass clarinet, saxophone and bassoon launched in the 1980's, it was the only one of its type. A number of similar ensembles have since popped up, and repertoire for this unusual instrumentation has grown exponentially, solidifying a new genre of chamber music. Two other programs of note are coming to the Frick in the next few weeks: the New York debut of the string quartet Quatuor Voce with the harpist Emmanuel Ceysson on February 24, and the lively early music group Ensemble Caprice on March 10.

Concert Artists Guild – an organization whose mission is to discover and nurture young talent – presents "Prevailing Winds" at Weill Recital Hall at Carnegie on February 12. The program features both new and established artists, including Imani Winds, PUBLIQuartet and bassoonist Peter Kolkay.

On February 2 at St. Ann and Holy Trinity Church in Brooklyn, the String Orchestra of Brooklyn presents two terrific works that are hardly ever performed, and will complement each other beautifully: Aram Khachaturian's Violin Concerto with the phenomenal young violinist Paul Huang, and Duke Ellington's rarity, The River Suite. Tickets at SOB's website or at the door.